Software

A-Myth Professional Services provides several options for Medical Imaging Software. We have over fifteen years of experience in the industry with the best known providers, retailers, and manufacturer's. A-Myth will tailor a software that reaches your specific needs, and then provide the training, support, and updates so you will always have the highest quality images and functionality.
We are certified in most PACS/RIS software and we provide sales and service of these products.
A-Myth also offers annual support options including remote support for all Imaging software it sells.  At A-Myth we stand behind our products.
We provide license software sales for
I.       PAXERAMED:
PaxeraView is the flagship member of the Paxera family of products. PaxeraView is a powerful viewing station that is able to work within any PACS environment (or can co-exist as a standalone solution) to handle all the modalities inside the healthcare facility. PaxeraView workstations are equipped with many features and tools that enhance studies' handling and management, and help operators work out diagnoses in an easy, efficient and intuitive way.
Seamless integration with PaxeraRIS solution
Supports multiple user accounts with different access rights
Fully customizable information grids
Flexible and customizable viewing formats
Flexible and fully customizable search engine that enhances the doctor's work-list construction
Create custom search filters for repeated searching operations
Image/cine manipulation in runtime (zoom, pan and color management)
Image processing tools and filters (invert, rotate, resize, crop, emboss, etc.)
Orthogonal, oblique and curved MPR
Multi-planar maximum intensity projection "MIP"
Measurement tools
Region of interest (ROI) processing and marking
Many different annotation tools (arrows, lines, rectangles, etc.)
3D image reconstruction for virtual endoscopy
Customizable statistical chart reports with different chart elements (legend, shape, color, etc.)
Voice note recording during and after the examination
Reporting tool with automatic report generation
Fully featured archiving capability that allows archiving of multiple patients at the same time.
Studies can be transferred to any DICOM-enabled machine for either storage, printing or CD/DVD publishing
Easily customizable and flexible visual film designer
Films (with any layout) can be printed to all DICOM and Windows printers
Teleradiology module
Multi-lingual support
II.       OPAL-RAD:
Powered by medical imaging's fastest distribution engine and open Web-based technologies, Opal-RAD will change the way you think about taking x-rays. A feature-rich, scalable and flexible picture archiving and communication system (PACS), Opal-RAD enables advanced digital image interpretation, management and archiving at a uniquely affordable price.
State-of-the-art DICOM viewer delivers powerful, intuitive workstation functionality

Quick function shortcuts integrated for efficiency

Full Chiropractic (DC) tools included with package purchase (see solutions)

Available Chiropractic stitching (Manual & Automatic) contact sales for details

Podiatric (DPM) Tools available†

WORLDWIDE access: view from anywhere!*

High-resolution multi-monitor support

Customize screen layouts; up to 9 images per monitor

Fully customizable settings to accommodate your specific needs

Compare images (post/pre op)

Refresh (see saved/available images, while study is being performed)

Custom Toolbox (see top-left of above image), fully customizable annotations/tool

Bone Enhancement – reprocess images sharper for enhanced diagnosis
We provide Support and sales for many other PACS softwares. List of some of them are: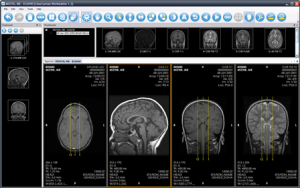 K-PACS [Open Software, Install, setup and support]
E-Film
ClearCanvas
For more information call us @ (407) 867-8797 or Email.