Cardiology PACS
SonoPaxera
Acquisition and Viewing Station for Ultrasound Machines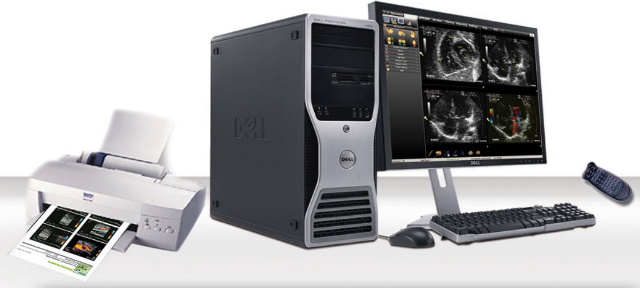 At a glance:

SonoPaxera, one of the Paxera family of products, is a powerful acquisition workstation for all types of ultrasound machines. SonoPaxera can handle all U/S modalities e.g. obstetrics/gynecology, color Doppler, echo cardiography, etc. With its superb image quality and rich features, SonoPaxera is the ideal solution for health workers who need to leverage their daily workflow.
Video capture with different supported formats.
No need for a separate monitor (uses the modality's own monitor).
Support of multiple user accounts with different access rights.
All operations can be controlled using an infrared remote controller.
Patient appointment and reservation.
Flexible and customizable viewing formats.
Easily customizable color palettes.
Flexible and fully customizable search engine that enhances the doctor's work-list construction.
Create custom search filters for repeated searching operations.
Video/image manipulation in runtime (zoom, pan and color management).
Image processing tools and filters (invert, rotate, resize, crop, emboss, etc.).
Cine loop recording of 25 frames/second.
Region of interest (ROI) processing and marking.
3D image reconstruction.
Measurement tools.
Region of interest (ROI) processing and marking.
Many different annotation tools (arrows, lines, rectangles, etc.).
Customizable statistical chart reports with different chart elements (legend, shape, color, etc.) .
Voice note recording during and after the examination.
Reporting tool with automatic report generation.
Fully featured archiving capability that allows archiving of multiple patients at the same time.
Huge storage capacity that can hold hundreds of thousands of images.
Studies can be transferred to any DICOM-enabled machine for storage, printing or CD publishing.
Easily customizable and flexible visual film designer.
Films (with any layout) can be printed to all color Windows printers.
Teleradiology module.
Multi-lingual support.